What is plagiocephaly?
Plagiocephaly is a word that describes a baby's head shape which is asymmetric, flattened on one side with the brow on the same side pushed forward. It's a common condition that can occur in newborns and young infants. While it can be alarming for parents, it's typically not a serious health concern, and there are very effective methods of treatment available, helmet treatment being the most effective in more severe cases.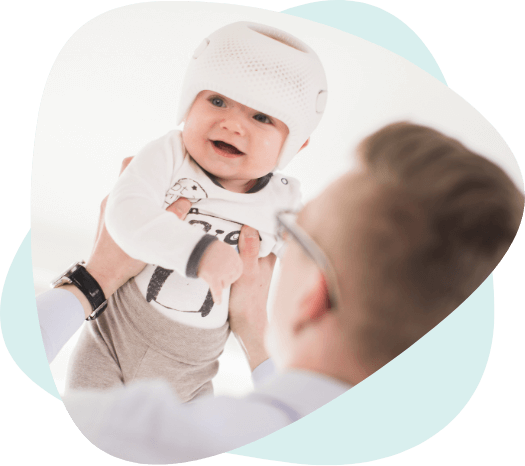 What are the typical symptoms?
The most common symptom of plagiocephaly is an asymmetrical or flat head shape. Other symptoms may include facial asymmetry, ear misalignment, and sometimes a bulging forehead on the affected side.
Why does it happen to babies?
Plagiocephaly can happen to babies for a variety of reasons. The most common way it presents itself is positional plagiocephaly, which occurs when a baby's head develops a flat spot as a result of continued pressure on one side.
This could be the result of the baby's position in utero or during delivery. Or it could have subsequently developed because your baby spends long periods of time in a single position or favours one side when they sleep.
In other cases, it may be due to a condition called torticollis, where the muscles on one side of the neck are tightened limiting full range of head movement, leading to uneven pressure on the skull.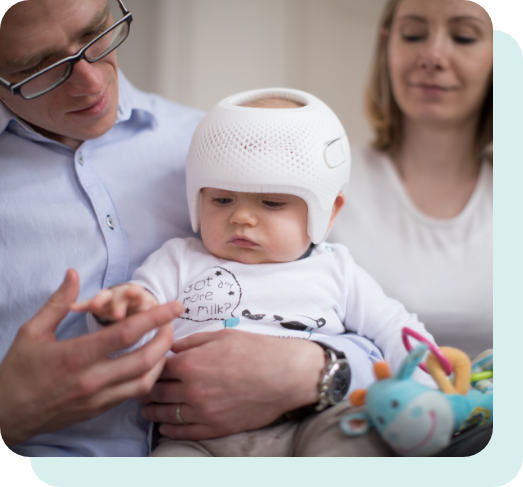 What challenges does it create for the child and their parents?
Plagiocephaly can naturally be distressing for parents who are worried about their child's appearance and development. While plagiocephaly is regarded as a self limiting condition it can cause life-long deformity if not corrected in early infancy.
What happens if a baby's plagiocephaly goes untreated?
If left untreated, plagiocephaly can worsen over time, making it more difficult to correct.
Recommended treatments
There are several treatment options available for plagiocephaly, including helmet therapy, repositioning, and tummy time.
Repositioning and Tummy Time:
Repositioning and tummy time are the first recommended courses of treatment. This simply means frequently changing the baby's position, whether sitting or lying down, and encouraging babies to play or lie on their stomachs so that there isn't too much pressure applied to any one part of the head.
Read more about repositioning and tummy time
Helmet Therapy:
Helmet therapy, also known as cranial remoulding therapy, involves using a specialised helmet that applies gentle pressure to the baby's head to help it grow in the correct shape. The helmet is worn for several months, and regular adjustments are made to ensure that it is fitting properly. This therapy has been shown to be effective in correcting head shape in most cases.
Find out more about cranial remoulding helmets
How to get assessed
If you are concerned about your baby's head shape, book a free pre-assessment and our clinicians can advise you on the best course of treatment for your child.
Our experts are happy to answer all your questions and provide the best solutions.